In this article, you will learn about:
-the most famous and popular desserts.
-methods of preparation.
Desserts in Greece can be served after dinner, just like in Poland, and also after supper. The most famous are baklava, ravani, melomakarona, loukoumades, fanouropita.
We will present two of them: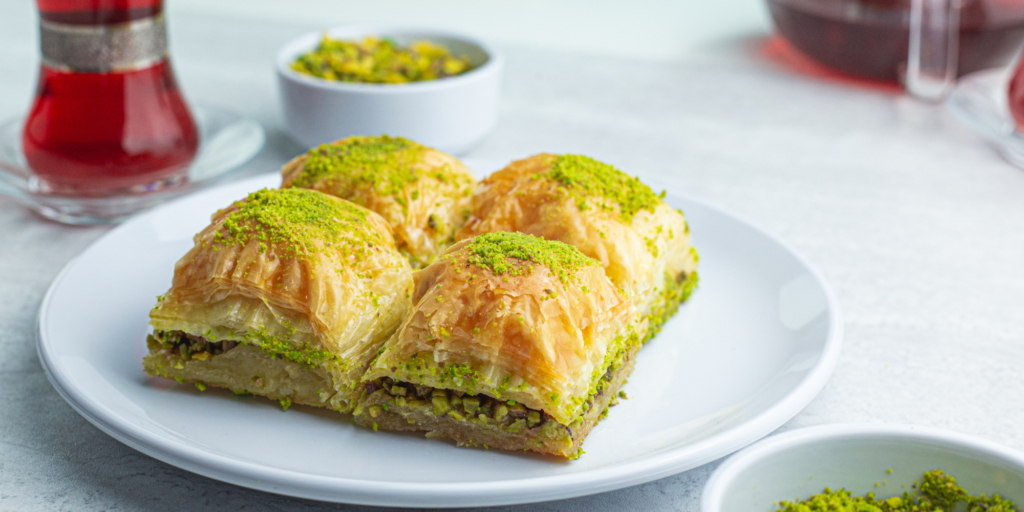 Ingredients:
500 g of filo pastry (2 packages, 24 sheets)
500 g of walnuts
2 teaspoons of cinnamon
1/4 cup of sugar
300 g of clarified butter, melted
pistachios, finely chopped, for garnish
1½ cup of sugar
3/4 cup of water
1 teaspoon of orange blossom water
Preparation:
First, prepare the syrup (it must cool down). Pour water into a small pot, add sugar and orange blossom water.
Boil until sugar is dissolved. Simmer until syrup is obtained (about 10 minutes). Set aside to cool.
Put the nuts, cinnamon and sugar in a food processor (you can also use a blender) and mix until the nuts are finely chopped
(in my opinion, it looks best when part is ground and part only chopped).
Prepare a mold with dimensions of 23 x 30 cm. Brush with butter. Working with one piece of dough (the rest remains under the cloth so that it does not dry out),
put it on the bottom of the mold and brush it with butter using a brush. Put another piece of phyllo dough on it and brush it with butter again.
There should be a total of 8 layers of filo pastry on the bottom, each buttered. Then put half of the prepared nuts, align.
Put 4 sheets of phyllo dough on top of the nuts, brush each with butter. Place the rest of the nuts in turn and align.
Cover the nuts with 12 sheets of phyllo dough, each separately spread with butter, including the top layer.
With a sharp knife (it can be with a ball), cut the dough into diamonds, squares or triangles (as you like), cutting it almost to the bottom layer (it would be difficult to cut it after baking).
Bake at 140ºC for about 2 hours, until the dough is golden. Take out and pour the evenly cooled syrup over the still hot cake.
Garnish with finely chopped pistachios. Set aside to cool.
Ingredients:
for syrup:
300 g of fine sugar
600 ml of water
1 stick of cinnamon
5 cloves
the peel of one orange (I peeled it with a vegetable peeler, it would be better in large pieces, because it needs to be removed from the syrup)
for the cake:
200 g of fine sugar
225 g of butter
6 eggs
120 g of wheat flour
175 g of fine semolina (the consistency of flour) or semolina
1 tablespoon baking powder
120 g of peeled, chopped almonds (I crushed the almond flakes)
1 teaspoon of vanilla extract (or 2 drops of vanilla flavor)
A round cake tin, 26 cm in diameter, greased with butter
Preparation:
Preheat the oven to 180 degrees C.
Syrup: In a saucepan, combine all the syrup ingredients and put on low heat. Stir until the sugar is completely dissolved. Simmer for 15 minutes, then set aside and let the syrup cool completely. Take out the orange zest, cinnamon and cloves.
Cake: Beat the butter until it turns white using a food mixer. Then slowly add sugar and eggs one by one, waiting each time for the mixture to spread out well before adding another egg.
In a separate bowl, combine flour, semolina, baking powder and almonds. Gradually add dry ingredients to the dough while the mixer is on. Finally, pour the vanilla extract, mix it and pour the dough into a round pan and put it in the preheated oven. Bake for about 30 minutes.
Take the dough out of the oven and use a sharp knife to carefully cut the dough into diamonds (see photos). Very slowly, use a ladle or a spoon to saturate the dough with cold syrup. Wait for the dough to absorb the syrup before pouring another one. Let the dough cool down.
Decorate the dough with almond flakes or chopped pistachios. Serve them with natural yoghurt, ice cream or cream.
These are two of the most popular desserts in Greece, if you don't know them, try the recepies above.