The highest peak is Mitikas, which rises to 2918 m a.s.l. Other peaks are: Skolio (2911 m above sea level), Stefani (2909 m above sea level), Skala (2866 m above sea level), Touba (2785 m above sea level). The massif is located on the Gulf of Termaj between the valleys of the Pinios and Aliakmon rivers. In the west it ends with vertical walls up to 500 metres high. Of the northern cliffs, the highest is the Skolio wall, which is 400 metres high. The denivelation between the centre of Litochoro and the main peak of Mount Olympus measures 2,620 metres.
First ascent to the summit.
The Mount Olympus massif is made of Lower Jurassic sedimentary rocks formed in a shallow epicontinental sea. During the Ice Age, about one million years ago, the Mount Olympus massif was covered by ice, the remnants of which are the glacial cirques. The slopes of the mountains are covered with vegetation such as coniferous forests, deciduous forests and macchia. At higher elevations, the forests transition into green meadows. Olympus is also a resort and tourist centre, with a national park established in 1938.
The first known person to reach the vicinity of the summit of Mount Olympus was Sultan Mehmed IV of the Ottoman Empire in 1669. The first ascent of the highest peak of the massif, Mitikas, was made on 2 August 1913. Swiss art historian Daniel Baud-Bovy and prominent photographer Frédéric Boissonas, accompanied by Greek Christos Kakalos. On 19 August 1964, Zbigniew Korosadowicz and his wife Olga (probably the first Poles) ascended Mitikas and Hagios Antonios (2815 m), located slightly further away. As a result of a fall while climbing Mount Olympus, Polish botany professor Bogumił Pawłowski died in 1971.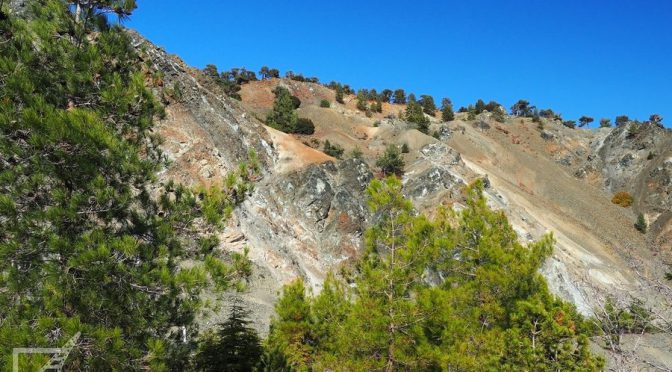 Olympus the mystical realm of the Greek gods
The ancient Greeks had already noticed this, placing the seats of their most important gods on inaccessible peaks, including Demeter – the goddess of the earth's fertility, the harvest, thanks to whom, according to mythology, the four seasons were created. Despite the passage of time, its mysteriousness has not faded, and atmospheric phenomena allow one to feel the spirit of ancient times. The peak of Mount Olympus, perfectly visible in the morning, is hidden in the evening by a fog that is the result of air circulation. A specific phenomenon that leaves an indelible impression is the thunderstorm over Mount Olympus, when blue and gold lightning, striking the summit, creates an unforgettable spectacle.
Climatic conditions on the mountain
Favourable climatic conditions and the lack of free access have made the Mount Olympus massif an extremely lush ecosystem. The richness of the flora is truly impressive. With almost 1,700 species of plants – herbs, mosses, shrubs and trees, most of which are not found in other parts of Greece, Mount Olympus has become an object of interest for scientists from all over the world, entering the list of mankind's greatest treasures.
And here is a map of Mount Olympus: